Bedford Glens Natural Stone
Natural Stone is sold by the pallet or loose by the pound unless otherwise noted. It is used for stepping stones, small retaining walls, patios and water gardens.
Following is an overview of the products we carry:
Colonial
Colonial (gray – approximate weight 3000#). Small flagstone, similar in size, gray color used in walls.
---
Creek Stone
Creek Stone (approximate weight 3000#).
Browns and gray rounded rocks, worn by water used for walls and ponds
---
Fieldstone
Fieldstone, Thin (approximate weight 3000#)
Gray & brown color, used for walls and ponds
Fieldstone, Steppers (sold only by pallet – approximate weight 3000#)
Gray & brown color, used for ponds, walls, steps, outcropping
---
Blue Stone
Full color cleft 1 ½" (approximately 175 sq ft per pallet)
Cut bluestone used as patio or walkway, varied sizes
Irregular Bluestone 1 pallet approx 110 sq ft (approximate weight 3000#) Irregular shapes, blue to green color, uses as a patio or walkway
Tumbled Blue Stone, Thin (by pallet only) Bluestone similar in size that has been tumbled approximate weight 3000)
Full color thermal 1 1/2" (approximately 175 sq ft per pallet)
Blue 1 1/2" - Special Order
Non-stock and special order items- Steps, Slabs
Maryland Flagstone
Wall Stone 1-3″(approximate weight 3000#)
Irregular sandstone 1-3″ used for walls
Patio Stone 2" (approx. 110 sq ft per pallet – approximate weight 3000#)
Irregular sandstone, used as patio or sidewalk
---
Granite Boulders
7"-12", 12"-14" (approximate weight 3000#)
Used for walls and ponds, gray to pink smooth boulders
---
Granite & Sandstone Boulders
UP to 4' x 4'
Large boulders used for walls and ponds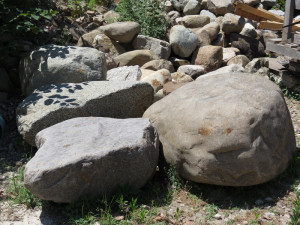 Granite and Sandstone Boulders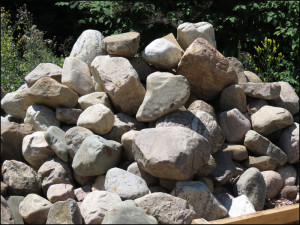 Granite and Sandstone Boulders
Top Rock
Top Rock (sold by pallet only- approximate weight 3000#)
Gray & brown rock, used in ponds, walls, and outcropping